Furniture
This work is a re-design to the rose chair, a traditional pattern in the Ming Dynasty and combined with Ulm grid design method. It is officially pointed as the chair in the exhibitions of "Dunhuang Mural Art Treasure in University" and "Maritime Silk Road in Chaoshan " held in Shantou University in 2018. Limited edition I & II are sold to collectors from Hamburg, Germany. III to XII are available at present, displayed in Shantou Piano Museum. In addition, combined with the modern life style that people use mobile phone frequently, basing on the eaves design of architecture, two eaves are added to the front of the armrests on both sides of the chair, the users can put their arms on the two sides while they use their mobile phone.It is more comfortable and effortless.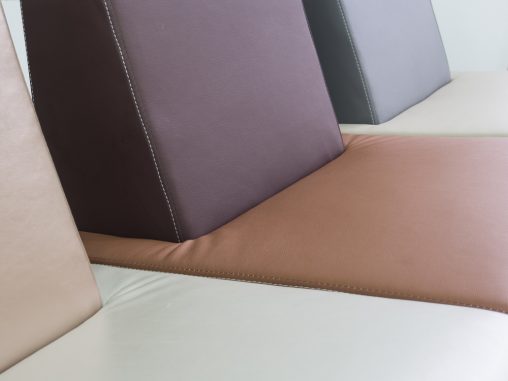 Saimaa was designed in December 2012, focusing on Finland market. The name comes from the biggest freshwater lake in Mikkeli. The lake Saimaa is deep in my mind with peaceful blue. Base of the sofa is raised up and can be separated from the seat back for easy-transportation concern. It is produce by Shunde Si Gao co., Ltd in Guangdong and invited in 30th International Famous Furniture Fair (Dong Guan).
Regal was designed for Design Space Co., Ltd., Korea in July 2007, focusing on single people. This chair was carried out by the agent Hangzhou Light Industrial Products, Arts & Crafts, Textiles I/E Co., Ltd in a factory located in HengDian, Zhe Jiang Province. The factory, used to produce exhibition shelf, was about to close down at that time. Regal is re-design of their stocks and successfully saved workers from laying off.